Learn How to Stop iOS 12 Update in Progress on any iOS Device.
Majority of the People doesn't want to Update their iOS device because they think that the latest firmware may contain some bugs or issues. And this is Right concern Because Most of the latest iOS Software Updates contain some bugs and then these bugs are fixed in the next Updates.
And if you also don't want to Update to Latest iOS Software then you can avoid it by not Going to General > Software Update.
But if your iOS Device is Updating or Update is in Progress. And you don't want to update your iOS device to any latest iOS 12 version such as iOS 12.1, 12.1.1 etc.
Then you might be finding how to stop such iOS 12 Update in Progress. And now you are at right Place because in this Article I will tell you about how you can stop iOS 12 Update in Progress easily.
Now without wasting time let's have a look at the steps to stop iOS 12 Software Update in Progress. These steps don't need any PC or any internet connection to Stop the iOS 12 Update.
Also Read:- How to Stop iOS 11 Update in Progress
How to Stop iOS 12 Update in Progress:-
Below are the steps you have to follow if you want to Stop or Delete an ongoing Update of iOS 12. You should follow the steps below as it is to stop a progressive iOS 12 Update.
1. First of all, Go to the Settings of your iPhone or iOS device.
2. Then Tap or Click on "General" option available in Settings.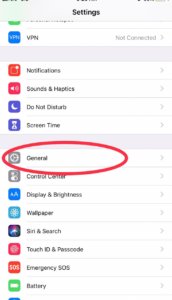 3. Now Scroll a bit down and you will Find an option "iPhone Storage", Click or Tap on it.
4. After that, it will take a few seconds to load and you will see all the apps stored in your iOS device, One of them will be named as "iOS 12", Click on that as highlighted in the image below.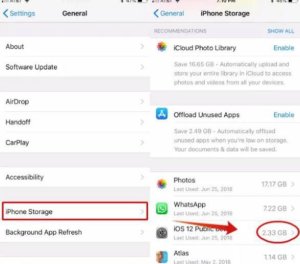 5. Now you will see all the information about it and also a "Delete Update" button, Click on that button to Stop the iOS 12 Update in Progress.
Also Read:- How to Download Apps over 150 MB without Wi-Fi on iPhone
Above were the steps to delete or Stop an iOS 12 Update in Progress. If you find any difficulty while deleting the update using the above steps then tell us by commenting it below in the comment box.
Keep using our site because we Upload latest How-To tutorial and iOS Tricks on a Regular Basis.
And Don't Forget to Share this article on Social Media with your Friends by clicking on the social Buttons below.
Some Articles, You may be interested in:-